You've started an Artifcts collection. You know stuff and stories go better together! Now what?
Artifcts already take your stories and memories beyond anything you can do with traditional photos, inventory lists, or social media. Now we have released a set of new features we hope will make it still easier to bring families, friends, and stories together across time and distance.
But First... Remember Networks?
Earlier this summer
we introduced Artifcts networks
so that you could easily import your contacts from your email or add individuals one by one to create a network and make sharing easier. You also gained one-click access to 'Invite' others to join you at Artifcts free and share in the Artifcting experience.
If you haven't created an Artifcts network yet, we encourage you to
start building yours now
(or click to
learn more >
) so you can easily take full advantage of all these new features!

Introducing Sharing Lists and Invite-Only Circles
Now your Artifcts networks can also help you instantly share Artifcts with lists of people and form invite-only circles. Why would you create lists and circles? Save time, connect easily and privately with all the people you want to, and gain access to more Artifcts you care about no matter who has them and where.
SHARING LISTS
Lists save you the step of sharing an Artifct with each of your nearest and dearest over and over again as you build your collection. Simply create a list, choose it when you share, and each person on the list will instantly receive your Artifct in their inbox. Popular sharing lists among our early testing group included: immediate family, neighbors, friends from school, colleagues, and travel pals.
INVITE-ONLY CIRCLES
Think of circles like group chats, but here your language is objects, photos, recipes ... and their stories! Anyone you invite into the circle can share Artifcts with the circle for all circle members to enjoy. The sky is the limit: train car collectors group, ceramic artists network, church groups, quilting circles, virtual family reunions, and more.
And, as always, list and circle members only need to have a free Artifcts membership to view Artifcts you share!
Create your first sharing list or circle >


Another New, Powerful Feature: @ Mentions
The joy of each Artifct you create is that it is so much more than a photo with a caption, scrapbook, or video. Each Artifct weaves together any combination of photos, video, audio, text, and documents in one place to give more color and meaning (and usefulness!).
Simply type @ as you write your Artifct 'Description,' and you will be able to select from people, other Artifcts, sharing lists, and circles to link into the story, historic account, or (maybe) tall tale. Learn how to use this feature on our YouTube channel.
Check out the "Cape Cod Whale Tale" >
Reorder Artifcts to Shape Your Story
Did you know that the singer Adele required Spotify not "shuffle" the songs on her newest album, ensuring the playlist mirrored the curated sequence on her album? She tweeted in part: "We don't create albums with so much care and thought into our track listing for no reason. Our art tells a story and our stories should be listened to as we intended."
While we don't "shuffle" your Artifcts, they do appear in the order you created them ... until now! If you feel the same as Adele, go ahead and customize the order in which your Artifcts appear, as co-founder Ellen Goodwin shows in this video on YouTube.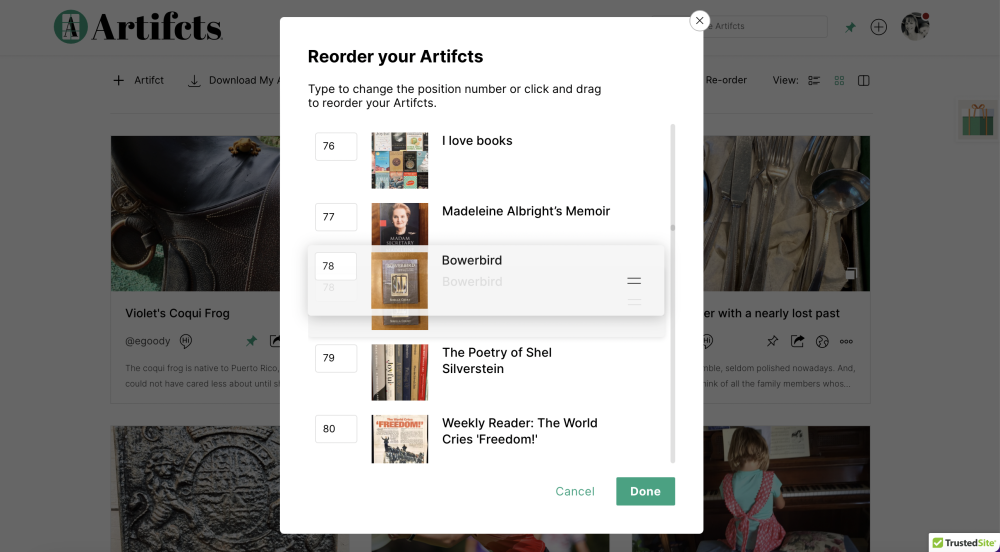 Choose 'My Artifcts' and click 'Re-order' >

Artifcts' App Got an Upgrade
Find yourself scrolling back through your mobile device's photos in a trip down memory lane and wish you could instantly add a photo (or video or audio snippet - even a voice message!) to Artifcts? Now you can!
With the photo you want to use selected, click the share button, and scroll through your apps to find the Artifcts app. If it's your first time choosing the Artifcts app, you might need to click "more" or a three dots (...) symbol to find the Artifcts app. Don't worry, your phone will learn to show the Artifcts app after you use it a few times.
That's all for now. We'd love your feedback, always. You can contact us at Hello@Artifcts.com.
Happy Artifcting!
###
© 2022 Artifcts, Inc. All Rights Reserved.